MIDAS Travel once again featured in the UK top 50 best TMC's
Every year, the BTN Group releases an official list of who it deems to be the best TMC's, or Travel Management Companies. MIDAS Travel are thrilled to be included in the Top 50 TMC's in the UK, for another consecutive year.
The list incorporates additional organisations, meaning featuring as a business remains competitive. MIDAS Travel is pleased to rank at Number 40, further demonstrating our reputation as the 'number one business travel partner for SME's.
2021 Focus
In 2021, our key innovations included a 360° evaluation of technology and products. So, watch this space for upcoming product changes and new partnerships announcements.
Across the year, we also focused our efforts on strengthening relationships with suppliers. This included establishing new partnerships with providers of visas, duty of care solutions and sustainability initiatives.
Delivering a Premium Business Travel Service
MIDAS Travel is proud to be featured in the leading TMC list again. We would like to thank our partners, suppliers and clients whose support remains invaluable.
Importantly, this wouldn't be possible without our valued, and growing team. Everyday, they continue to deliver an unwavering premium business travel service, with both passion and dedication.
What's Next?
With international travel very much back on the agenda, the wider community continues to unite for the common good. Currently, pent up demand and the vital need for face to face engagement is driving a new surge in enquiries. Namely; client engagement, business development and team building events.
As a business, MIDAS Travel looks to the future with energy and excitement.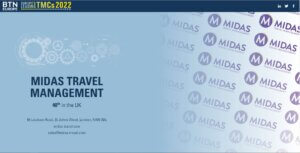 Get in Touch
To find out how MIDAS Travel is 'making travel better for everyone', then get in touch. Speak with a member of the team on 020 7440 5300 or email hello@midas-travel.com
USEFUL LINKS