MIDAS Travel once again featured in the UK top 50 Travel Management Companies (TMC's).
The BTN Group has released its official list of top 50 TMC's. And MIDAS Travel has retained it's ranking in the leader board.
This year's rundown of the UK's leading TMC's is actually larger than 2020's. The BTN Group has cast the net wider to incorporate additional organisations, making competition for rankings even fiercer than in previous reviews.
International travel reopened in May with the US easing transatlantic restrictions in November 2021. As new variants of covid-19 emerge, MIDAS Travel continues to support it's traveller community in getting where they need to go.
Although this has been a challenging period for the travel industry, business travel is gaining momentum again. With this, we see pent up demand for face-to-face interaction. Whether that's business development, client engagement or team building.
MIDAS Travel is proud to be featured in the leading TMC list again. We would like to thank our partners, suppliers and clients whose support remains invaluable.
With special mention to our team who have proven their passion and dedication to delivering an unwavering premium travel service throughout.
Whilst international travel begins to re-emerge, the wider community continues to come together in support. MIDAS Travel is looking to the future with positivity and excitement.
To find out how MIDAS Travel is 'taking care of the journey', then speak with a member of the team on 020 7440 5300 or email hello@midas-travel.com
For any press and media enquiries, please visit our press page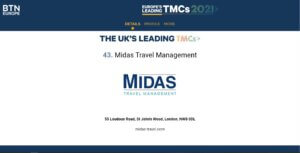 USEFUL LINKS