MIDAS Travel joined British Airways behind the scenes to see how safe our travellers are when they fly. We saw first-hand how rigorous training programmes ensure the team prepares for any kind of emergency.
We have a renewed appreciation for the extensive learning and development crew members go through.  And the processes to keep them up to date. Apart from fulfilling a childish dream of launching down an airplane slide, what else did we learn on the day?
Knowledge & process
New team members enlist on a 6-week initiation training course, hosted at The British Airways Global Learning Academy, Heathrow. This includes knowledge based, mock up and role play learning. And, all graduates finish with an extensive understanding of their role in delivering the company motto 'To Fly. To Serve. Today. Tomorrow'.
The programme incorporates practical uses for mnemonics as part of the training. This helps individuals remember their training in high stress situations.
Helpfully, the programme is constantly evolving with new business needs. All team members complete a new programme each year. And, for those that haven't flown for over 180 days, refresher courses are a requirement. Reassuring if you're a nervous flyer! We saw groups on conversion courses, as they keep up to date with new airplane types and requirements.
We were joined on our visit by one of the airline's latest apprentices, who was gearing up for their next secondment to the charity division. They told us about the multiple secondment options available and how it was a great option for those looking to pursue a new career.
History meets innovation
Much of the training takes place in large hangers located just outside the airport and steeped in history. We stopped in our tracks at the sight of an A380 driving out of one hanger, via a retrofitted 'hole' to accommodate the expansive aircraft fins. The adjacent hanger is home to the 'largest free standing concrete structure in Europe'.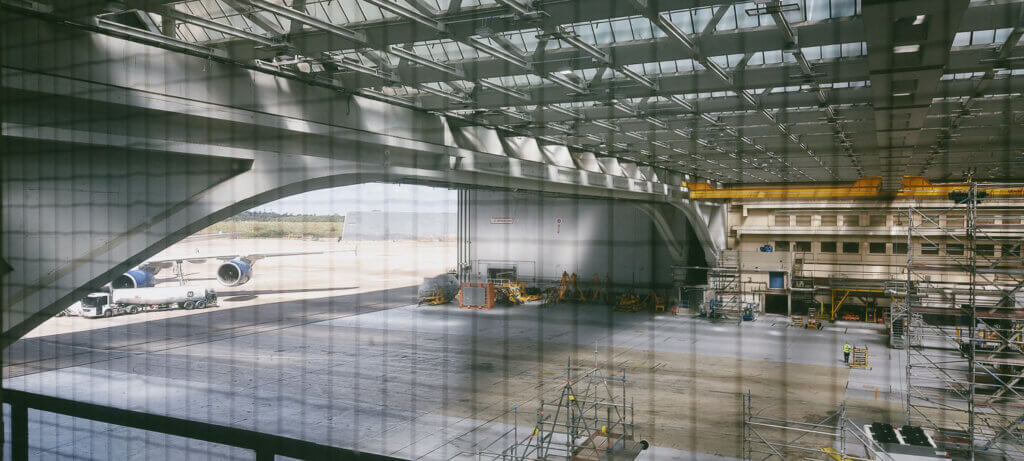 The final hanger on our tour was dedicated to pilot training. Now full of simulators, this was originally a workshop for plane repairs. And, the bilateral crane that moves these simulators around the building is a working relic from that period.
Such a vast room full of galactic looking simulators, training the pilots of the future. Hopefully next time, we might get to trial one! These pods really are the next best thing to piloting an actual plane. The rest of the building is full of practice/testing stations with desk set-ups, partial cockpits and gaming style chairs.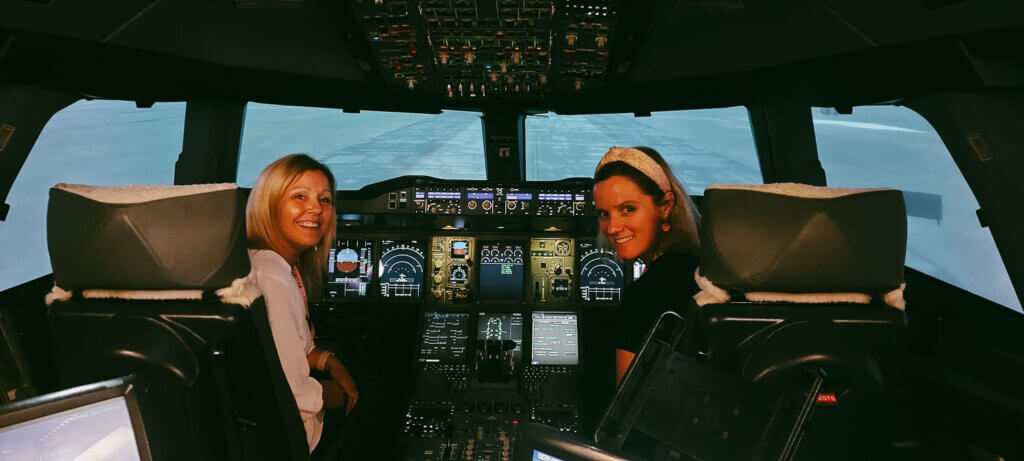 Role plays & slides
The training hanger was organised like a circuit training class of airplane parts – doors, cabins, emergency slides. It's the perfect environment for staff to practice the emergency procedures that we hope they'll never have to use.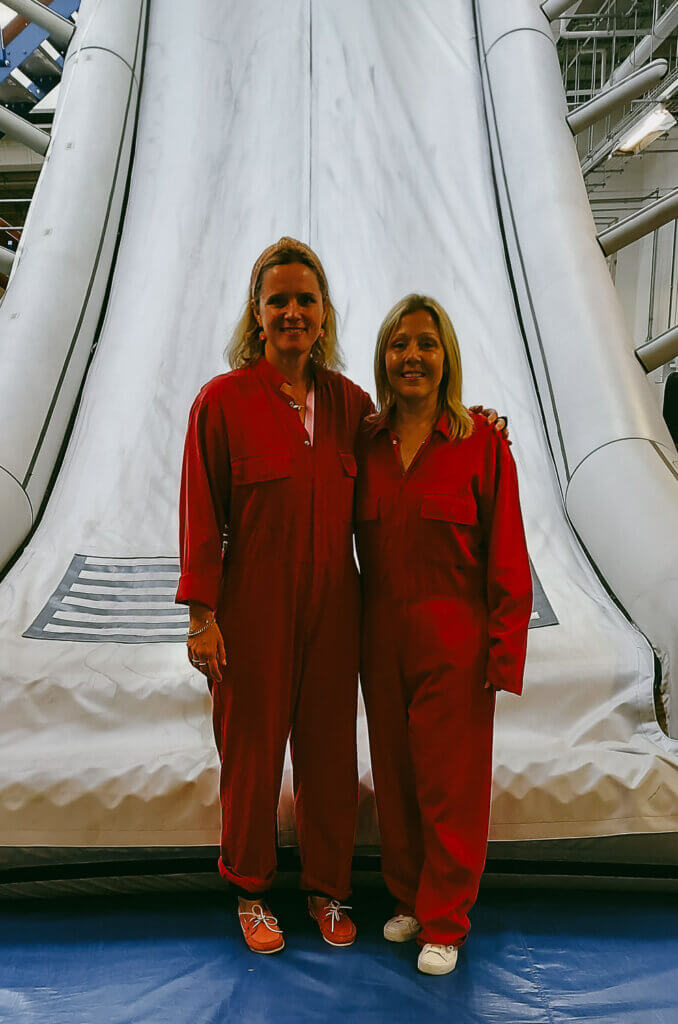 We sat in a section of cabin, which filled with smoke and experienced a mock emergency brace followed by disembarkation. Brace, Brace, heads down, stay down. It turns out the brace position is not quite what we thought. With many airmiles across the group, not one of us got it right! Notably don't interlock your fingers. One to check next time you're perusing the safety information card.
And, onto the exit slides. First, we donned some on-trend overalls to protect the surfaces, as you can imagine these slides are not cheap and need to be kept in tip top condition for training. We crossed our arms, leant forward and down we went. Hopefully this is a once in a lifetime experience, but in this case it was really fun.
Continuous improvement
One final observation throughout the day was that the programme and training is constantly evolving. In training and real-life events, full debriefs take place and form the basis of new improved systems and products. Improvements include;
Locks on cockpit doors keep pilots (and the plane) safe
Kneeling at the side of exits (not in front) to protect staff
Brace position – do not interlock fingers to avoid risk of breakage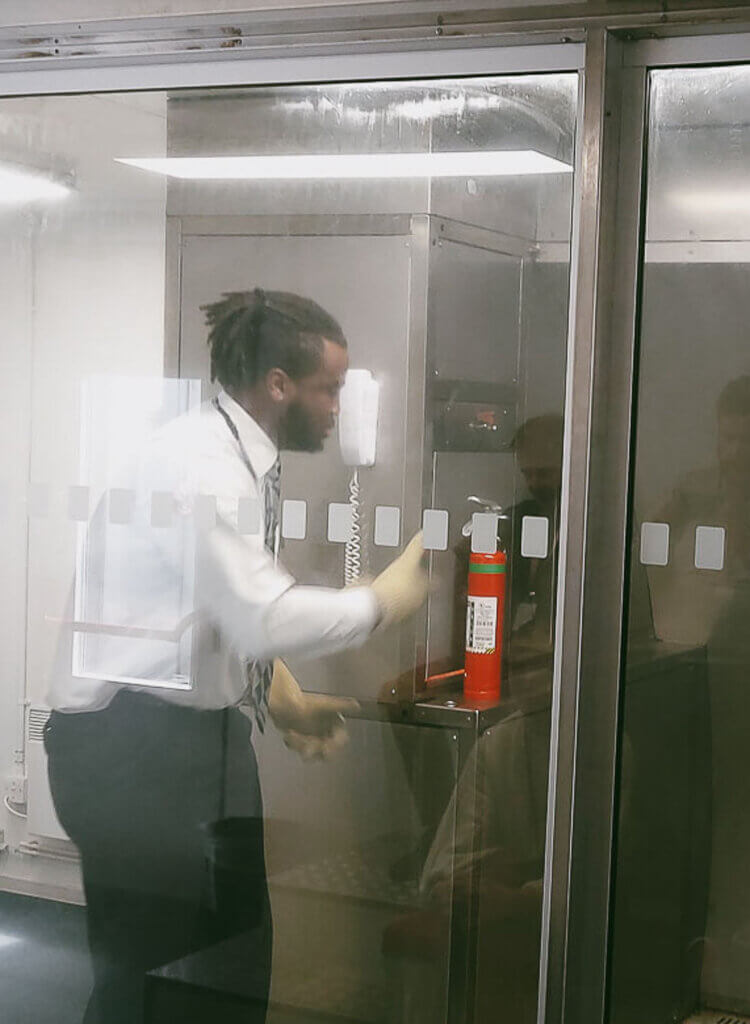 Granted there will always be new dangers to assess and prepare for. With the rise in portable technology, any one passenger may be carrying a mobile phone, laptop, headphones, smartwatch, chargers… all containing potentially flammable lithium batteries. Additionally, smoking ceases to be an issue but vaping and associated accessories are posing new kinds of challenges.
We were privileged to witness, and take part in, a fire safety drill. A mock up cabin sets the scene for a number of instances from a flaming laptop to an electrical fire. We were in awe at the speed and organisation in place, should such an event take place.
New courses, testing and knowledge-sharing across departments continues to maintain optimum airplane safety for millions of passengers every day. You should feel safe that staff are well trained, products are checked and systems are in place (and up to date) should anything out of the ordinary occur whilst you're in the air.
Fly with confidence
A special thank you goes out to British Airways and their team for giving us such a great insight into their facilities and programmes. This first-hand experience gives us confidence reassuring our travellers they should feel safer than ever when they fly on a plane.
USEFUL LINKS