Given this week is #recycleweek, we wanted to share some tips on how business travellers can make better recycling decisions as part of sustainable travel programmes.
Employees travelling on business have options to reduce their carbon footprint at various stages of the journey. Looking at recycling specifically, small choices can make a big impact. These can include decisions made;
• Pre-trip
• During trip, and
• Post trip
Here are our tips for business travellers looking to travel more sustainably.
Pre-trip Recycling
Even at preparation and booking stage, travellers can make sustainable choices that reduce wastage and the need for recycling.
Learn how to recycle properly
Many countries now have sophisticated systems in place and with a little research beforehand, you can ensure you're positively contributing to the communities you visit. According to a recent survey, Germany tops the list, recycling "70% of all waste produced… this is the most in the world." [1] Take some time to look for recycle bins instead of resorting to throwing it straight in the rubbish.
Go digital
Opting for digital, mobile or e-tickets instead of printing (at home or in the airport) reduces the need for paper and it's subsequent recycling. Take a screenshot as soon as you get your boarding pass and/or send it to a travel companion as back up.
Book ahead
Cabin waste audits undertaken by IATA and a number of airlines indicates that '20-25% of cabin waste is untouched food and beverages, meaning the sector is incinerating or landfilling US $2-3 billion worth of resources' [2]. Pre-ordering in-flight catering helps the crew to manage requirements, meaning less food is produced and in turn, less food is wasted.
Many providers have apps with online ordering capabilities, so meals can be easily added at point of check-in. Other initiatives include the sale of any remaining meals at the end of the flight at discounted prices – SWISS launched 'SWISS Saveurs to go' [3] earlier on this year for their short to medium haul flights.
Use Sustainable Aviation Fuel
Opting for Sustainable Aviation Fuel (SAF) replaces traditional fuel with that sourced from recycled bi-products such as general waste. There are four main producers of SAF [4];
Neste (Finland)
World Energy (US)
Alder Fuels
SkyNRG
Although supply is currently limited, airlines have a lot of SAF on order, so you can expect more availability in future.
During Trip
A pilot study into cabin waste conducted at Heathrow Airport back in 2013 indicated that 'a typical passenger generates 1.43 kilos of cabin waste (average across both short and long-haul international flights) of which 17% comprised of recyclable materials (e.g. plastic bottles and newspapers)' [5]. Throughout the journey, business travellers have various opportunities to reduce their wastage and make greener choices.
Reduce single use plastics
Taking your own water bottle saves time, money and reduces the need for single use plastic bottles. Water fountains are widely available across airports, so refilling is easy. Equally, taking your own, TSA approved mini liquids bag through security also means you won't need to use one of the many plastic bags supplied. Say no to plastic bags in shops and utilising plastic eating utensils (cutlery, straws, cups…). If you do, then recycle them.
Pack your own amenities
Most travellers prefer their own earphones nowadays anyway. But taking your own, means one less pair of disposable buds going to landfill. Also consider taking your own neck pillow, hygiene wipes, toothbrush…
Re-use linen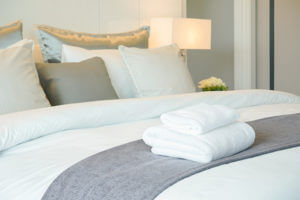 Don't opt for new sheets and towels in the hotel just because you can, consider your usage at home and whether you really need fresh ones every day. This is especially impactful for longer trips where you're staying in the same place for more than the one night.
Post trip
Even after the trip, business travellers can still reduce their environmental impact by making some small changes.
Dispose of batteries properly
Business travellers widely use batteries for cameras, charging devices, mobile phones… Search online for where to dispose of batteries properly in your state or city. Or, consider rechargeable alternatives.
Provide feedback
If you do feel that things could have been improved and/or provisions were not in place to make ethical choices during your trip, then let your travel supplier know. The travel industry and government are committed to net zero goals [6] and this can only be done with feedback and continuous improvement.
Travel with companies who care about the environment
MIDAS Travel this year launched our own ESG policy and commitment to sustainable business travel. We're working with suppliers and industry partners to ensure we can provide more sustainable options for our business travellers.
If you're an SME that wants to adapt a more sustainable travel programme, then get in touch.
Useful Links
Footnotes