As interest in sustainable business travel was gaining pace across the industry, MIDAS Travel set about developing an approach that would service their client portfolio, the SME market.
It's well known that the large blue-chip companies are getting behind sustainability, and now reviewing their travel programmes. But, what about the SME's? With less resource and budget, how do they go about achieving the same levels of change?
What started as a trickle of requests for carbon emission reporting, soon became a much wider scope for data, policy reviews, sustainability partners and offset initiatives. It was clear that there was a growing expectation and need for MIDAS Travel to advise, guide and assist as part of their full travel management offering.
The Challenge
The challenge therefore for MIDAS Travel, was to put in place an approach to sustainable business travel that was flexible, tailormade for the SME market, and with room to grow and adapt.
MIDAS Travel set up a team to develop a policy, bringing together all the work already in place and highlighting key partnerships. The team would lay out a plan for development and an ongoing operational schedule.
The Team
The ESG team is formed of a cross section of MIDAS Team members and external expertise. Internally, the representatives cover client service delivery with reporting and IT, as well as external marketing and PR.
Additionally, the team also takes counsel from sustainability consultant, David Morgan. David brings an expertise from outside of the travel industry to align strategies with the wider national and international ESG scope, as well as driving key milestones for MIDAS Travel.
Working Together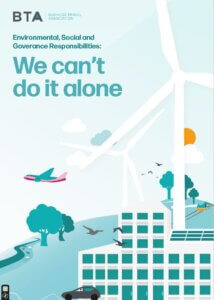 The MIDAS Travel ESG team will be representing the SME community as it joins the BTA panel, 'Planet Plan Council'. Providing unique perspectives from across the community, together we will drive sustainable business travel change.
MIDAS Travel is also pleased to announce partnerships with Trees4Travel, growing trees & renewables, and Thrust Carbon, Reporting & carbon offsetting.
Additionally, the overall ESG approach is aligned to UK, UN and global standards, in accordance with Gold Standard and Verra.
The Result
One of the key take-aways for MIDAS Travel is that it's easy for SME's to feel overwhelmed when it comes to ESG, especially given the inspirational initiatives emerging across the business sector. But it's also important to get started, be flexible and embrace the journey.
The result for MIDAS Travel is a sustainable business travel offering, build for SME's, and a policy that sets out the foundations for a much wider ESG approach.
Commenting on the new ESG approach, David Morgan said 'Sustainability, and in fact the wider ESG remit, can be a real minefield for an SME. We wanted to put a foundation and an ethos in place that we could refer back to, but also build upon as the landscape continues to change. We're thrilled to be working within this space and for the future projects we have on the horizon. Exciting times'.
To talk to the team about Sustainable Business Travel for SME's, then get in touch.
USEFUL LINKS