Recently, we had the pleasure of attending a show round of Heathrow Airport, kindly hosted by United Airlines. With restrictions in place throughout the pandemic, now seemed like the opportune time for us to re-engage with our networks and partners. It got us thinking about the benefits of close supplier relationships and what that really means for our clients. Here we've summed it up:
Key benefits for of supplier networks business travel clients
Knowing the products, latest offers and client rewards
Supporting each other towards common goals
Driving revenue & growth for all
Returning to travel sustainably
Working together to deliver premium travel experiences
Continuous improvement
Knowing the products, latest offers and client rewards
It's a given that travel agents need to know the products their selling. And with airlines launching new products every day, it's certainly an exciting time to be a travel buyer. Supplier relationships are key to keeping up to date with the latest offers. Equally, partnerships such as Focus provide a vital source of information via their intranet and webinars.
Many reward programmes have been either extended or on hold throughout the pandemic, and now they're welcoming frequent travellers back with exciting deals and opportunities for points. Working closely with suppliers can help get you back on track and ensure your loyalty schemes are providing the best ROI.
Supporting each other towards common goals
Although there remain some legacy COVID-19 requirements in place (checking destination rules, Passenger Locator Forms, proof of vaccination) by and large, travel is as easy as it ever was. So, part of the challenge today is getting more people confident, and travelling again.
This can be as simple as checking passport validity (avoiding delays on replacements), re-applying for visas such as ESTA's (many will have now expired) or merely hand holding as travellers re-familiarise themselves. Re-building this confidence is indeed a joint effort for TMC's and suppliers at every customer touchpoint.
Driving revenue & growth for all
A return to travel means a return to business growth and opportunities for companies worldwide. As such, suppliers are keen to welcome travellers back by adding enhanced value wherever they can. Add-ons such as extra leg room, seat allocation, complimentary free checked bags and priority check-in are some of the ways United are currently enhancing non-premier travellers' experiences.
Through the regular sharing of traveller feedback, suppliers are developing products and offers that address corporate travel needs in the current climate. Great news for all.
Returning to travel sustainably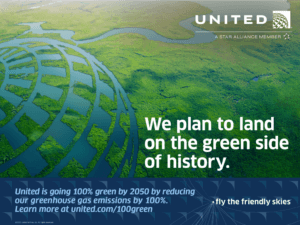 Many travel suppliers have now committed to a net zero target by 2050 in line with green government agendas. Moreover, as business travellers seek to make more eco conscious decisions, we continue to build our knowledgebase around these initiatives.
In addition to the sustainability support we as a TMC offer your programme, suppliers are developing their own unique initiatives. During our tour, United shared with us their Path to Decarbonization. This includes innovating new aircraft, scaling up low-carbon sustainable fuel and capturing C02 from the atmosphere.
Working together to deliver premium travel experiences
The traveller experience is a full cycle from research, to booking, travelling and follow up. In order to ensure a premium experience for your bookers and travellers, suppliers must input at every stage of the trip. So, this not only means having a great product, but also delivering on service promises.
However, should something not go to plan, this is where strong networks and trust start to become a key differentiator. Through feedback, testing, measurement and innovation, our close supplier relationships remain core to our ability to deliver premium business travel experiences for clients.
Continuous improvement
On our tour, we noticed United's "mental health advisors"; just another way in which they are innovating and supporting the needs of the future traveller. It's clear that the business travel experience is changing every day, and it's important that products, service and delivery keep up with that demand. Whether it's building a sustainable travel programme, duty of care during a pandemic or workforce wellbeing on business, we must always be improving.
Through nurturing strong supplier relationships, we bring extensive benefits to our clients and travel programmes.
Many thanks to United Airlines and the Focus Partnership for the recent tour and update.
USEFUL LINKS
For any other enquiries, please get in touch.